Search Results for:
7644-40230
---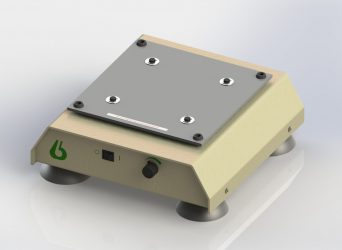 The Bellco Orbital Shaker is a compact, heavy-duty variable speed shaker.  It is used for the agitation of electrophoretic gels and filter assay media for staining, destaining and assay development.  The Shaker accommodates a variety of vessels.  It is continuously adjustable from 30 to 350 RPM.  This Bellco design incorporates an orbital platform that accepts a variety of optional trays.  A variety of tray models are available, including three equipped with flask clamps for common sizes of flasks.  Peg and Grommet style trays make changing convenient.
Specifications:
Speed Range: 30 To 350 Rpm +/- 2%
Circular Orbit: 1″
Maximum Load: 25 Lbs (10 Kg)
Base Overall Dimensions: 12″ X 13″ X 5 1/2″ (33 X 31 X 14 Cm)
Base Weight: 11.6 Lb (5.3 Kg)
Electrical Rating: 230 +/-10 Vac 50/60 Hz Line Voltages 2 Amp
Fusing: All Units Have Internal 24vdc Circuits Fused At 2 Amp (2a/250vac)
Environmental Conditions (Operating): Indoor Use, Pollution Degree 2, 4° To 50° C, Relative Humidity 0-90%, Non-Condensing.
Environmental Conditions (Non-Operating): -10° To 60° C, Relative Humidity 95% Maximum.